Regrip your Golf Grips at The Golf Studio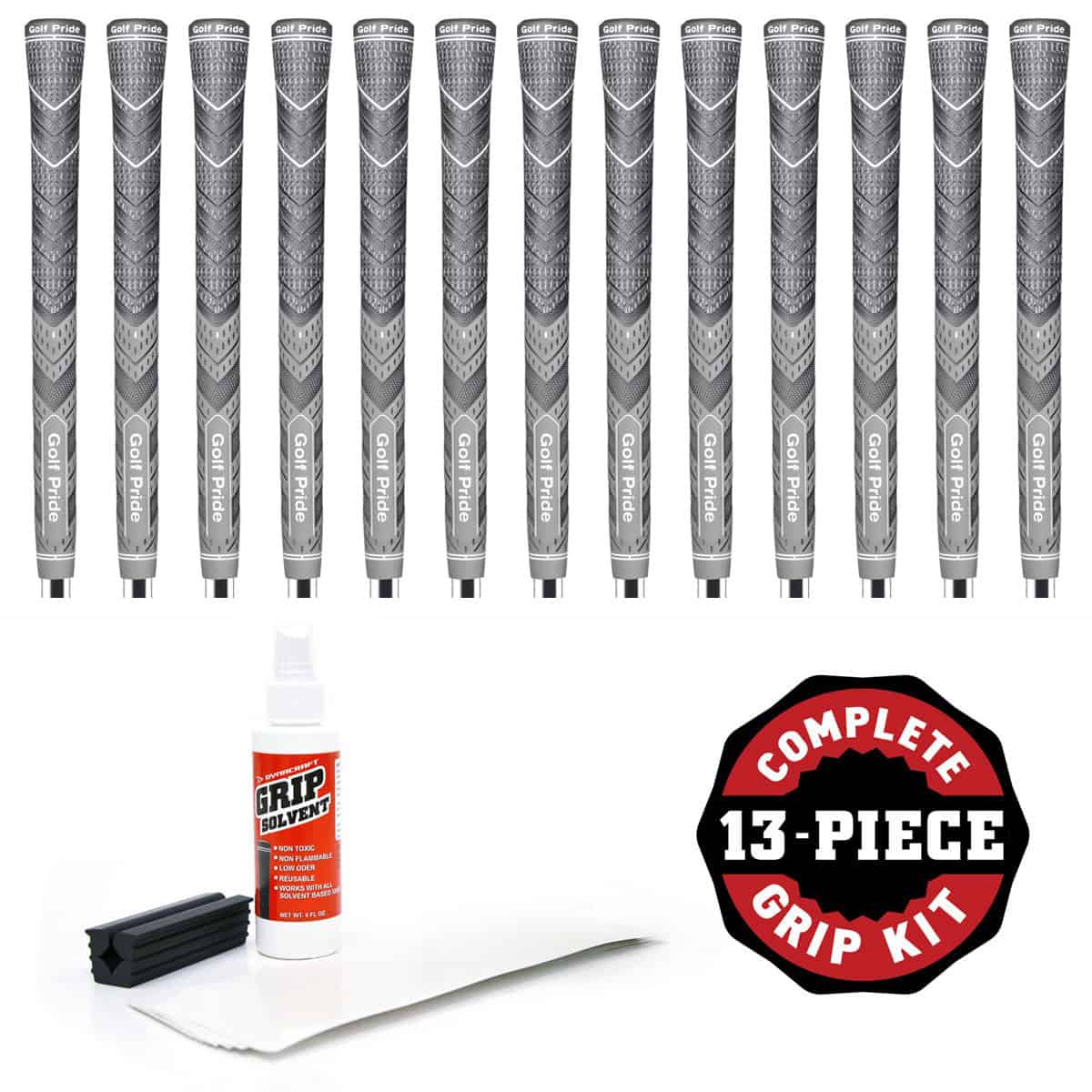 Regrip your golf grips at The Golf Studio and upgrade to the latest Golf Pride golf grips, there are a lot of options available. For instance, the CPX grip for golf, as an instance, is made from soft rubber that is able to absorb the impact vibrations. It has diamond-shaped raised pieces, referred to as "EXO Diamond-Quilted" patterns that make scores on the surface of the grip. These scoring patterns let your hands make contact with your grip, even when wearing gloves. Get your clubs regripped at The Golf Studio with its guaranteed quick turnaround.
WinnPro X putter grip
The black grip has an large fit that has silver accents that allow for a more natural feeling when you stroke. The big profile hinders the wrist from moving during your stroke, and the rough Excel polymer material offers excellent comfort. This New Golf Pride WinnPro X putter grip is a great product with amazing features at an affordable cost. With a weight of less than an ounce, this grip for putting is the ideal solution for all players.
The NEW Golf Pride PRO Only Green Star putter grip features an arched paddle on the front and back, and a the oval shape of the back is rounded to give an improved feeling. New rubber material provides an even more solid grip for the putter. It gives the best feedback and is specifically designed for smaller hands. The putter grip is also compatible with normal-sized golf clubs. Golf Pride also makes a assortment of standard-sized putter grips such as those called the Pro Only Cord Red Star, Players Wrap, and TOUR SNSR Contour.
The new grip for the putter has a an angled profile that reduces wrist movements when putting. The WinnPro putter grip X is constructed with a non-tapered design to allow very little wrist movement. The grip is also designed to reduce wrist movements, which are crucial when you are making a putt. Additionally, it is comfortable it is also durable. WinnPro X putter grip is sturdy and easy to keep.
Another outstanding characteristic that is a highlight of this New Golf Pride WinnPro X grip for putters features the SNSR technology. This material helps to prevent wrist movements during strokes and provides the best control of moisture. With its slim, modern form, this putter grip is designed to provide comfort and helps reduce the fatigue of your hands. Additionally, since it is the Tour SNSR grip is lightweight and nimble, it assists in lowering the equilibrium point. This can allow for a more extended round of golf.
Tour Wrap 2G putter grip
The 2G Tour Wrap grip for the putter by Golf pride has modern styling and improved tackiness , making it a top option for putter. Its single-piece construction provides it with better tackiness and feels and gives you more control at the impact. One-piece construction is proven to work and can save golfers three to four strokes for each round. It is available in various colours to suit your style and preferences.
This Tour Wrap 2G grip for the putter by Golf pride is available in four different colors and comes with an upgraded surface texture. The soft material offers greater control and tackiness that allows you to get better accuracy in your shot. It's a fantastic choice for golfers who want a soft grip for their putter, and the wrapped design simulates the wrap, giving golfers the ultimate comfort.
The 2G Tour Wrap putter grip from Golf Pride is available in multiple sizes to accommodate a choice of hands. You can choose between standard, jumbo and smaller sizes. Selecting the right size of grip for your putter isn't an exact science however. You may find an ordinary grip is best for the size of your hand and an undersized grip is more suitable for smaller hands. Most golf clubs in stock come with standard grips, so make certain to verify the specifications of your golf club before buying.
Regrip Your Golf Grips at The Golf Studio
The latest Golf Pride CPX cushioned performance handgrip is a comfortable, soft improvement over its predecessor. The unique design incorporates modern techniques to make it more comfortable than it was before, and its EXO diamond quilted pattern provides unparalleled stability. Its comfortable EXO diamond quilt design was created to increase contact points to provide better comfort and greater control.
The CPX is the first golf grip designed at the Golf Pride Global Innovation Center in Pinehurst, N.C. The company studied the way that an common golfer utilizes the golf club and found the grips that are more comfortable to him. The engineers at Golf Pride also looked into the grips that is used by BMX bikers, and developed an CPX model. CPX model. The CPX grip is made of diamonds, with a quilted pattern as well as a perforated top. The pattern forms scores which are easy to grasp even when wearing gloves.
The CPX cushioned performance grip made by Golf Pride is constructed from the softest rubber material from the company. It has an engraved diamond pattern for additional traction. It also features a sculpted inner core that helps to stabilize the grip in the upper. This stabilizer adds strength to the grip which is where the torsional force is strongest. Contrary to most golf grips that are soft that are available, the CPX grip has a more comfortable feel.
The unique design and the softness are the most important advantages that come with the CPX cushioned performance grip made by Golf Pride. It was designed at Golf Pride's Global Innovation Centre in Pinehurst, NC. The 45-degree diamond pattern is created to maximize the amount of contact between golfers' fingers and golf clubs. In addition to this soft compound of rubber CPX has an ingenious Control Core. This allows the grip to provide maximum comfort and control.
Tour Wrap 2G tackiness
The tour wrap 2G made by Golf Pride Golf Pride company is a modernized version of the original model. It is available in a variety of colors. Its more comfortable construction gives a nice feeling to your wrists and hands. The grip on the golf club is made with the performance of the player in mind. The Tour Wrap 2G features a new design specifically designed to improve the feel and feel of the hands.
The tackiness of your grip on a golf club can be the difference between a successful or unsuccessful shot. When your ball is short or long the grip you use to hold your golf club in a proper manner can be the difference between the perfect shot. Golfers require total control over their club to make sure they hit the ball as far as is possible. Because they can only hold a small portion of the club in a swing, the grip of a golfer is vital to attain this control.
Wrap 2G Tour Wrap 2G traction
The latest Microsuede Tour Wrap golf grips from GolfPride provide a unique combination of softness and increased grip. Their wrap-style construction as well as improved finger nesting ensures complete control and contact while providing the highest level of comfort. They are specifically designed for golfers who have a variety in gripping style and preference Golf grips made of Tour Wrap microSuede are expected to be available in retailers later in the month.
If you're looking for an economical way to enhance you grip Golf Pride Tour Wrap 2G grips are an excellent value. Available in a variety of sizes The Tour Wrap 2G grip for golf is specifically designed for the typical American population. Their grips have the pattern of the Tour Wrap 2G and are available with standard and jumbo and undersize versions. Selecting the right size grip for your hands isn't an exact method, but, by looking at their successes at the top level, you're certain to find the perfect grip for you.
Another alternative for grips could be one called the Tour Wrap 2G. It has a more durable tack material and is available in Red blue, white and black. With this grip, you'll achieve the traction you require to increase your performance. It's also available in Small and Midsize sizes. This Tour Wrap 2G offers a better grip to meet every player's requirements. This product was created to enhance efficiency on the course and last for longer.
The Tour Wrap Golf 2G grip for traction golf comes in four colorways. The grips are enhanced in surface texture with hexagonal and smooth X spots strategically put onto the grips. The result is superior grip that is non-slip and more comfortable. The grips can be utilized in cold weather as well as in windy weather conditions. The distinctive surface pattern of the grip is well-known by pros on tour and provides players with a distinct and easily identifiable feeling and performance. It also includes M2 Rubber which improves grip and decreases the stress on your hands.
Click Here to Join The Golf Studio and start getting the benefits of being a member